À PROPOS DE MULTI ART LTÉE
Au moment de l'arrivée de notre organisation sur la scène artistique canadienne, le métier d'agent d'artiste n'existait pas et notre fondateur a dû, à force de persévérance et d'imagination, créer une profession nouvelle de toute pièce.
Au milieu des années soixante-dix, les artistes figuratifs du Québec n'avaient aucun moyen de diffusion efficace à travers le Canada. Nous avons su palier à cette lacune et, trente ans plus tard, sommes fiers de toujours offrir le meilleur de l'art figuratif auprès des plus grandes galeries d'un océan à l'autre.
Toujours une entreprise familiale, Multi Art est aujourd'hui dirigée par Madame Natalie Beauchamp.
Profitant d'une expérience et d'une réputation sans pareille, l'équipe de Multi Art est heureuse de vous présenter son site Internet et vous invite à venir y rencontrer la crème des créateurs en arts visuels au Québec.
---
Denis Beauchamp (1942-2004) Fondateur/Founder
ABOUT MULTI ART LTD
Created in 1974 by Denis Beauchamp, Multi Art Ltd is an arts dealer focused on representing figurative artists from Quebec.
When we first got on the Canadian art market, the artist's agent trade was all but inexistent in Quebec. Through sheer will and perseverance, our founder created what amounts to a new trade.
In the mid-1970's Quebec's figurative artists had no efficient means of representation in the rest of Canada. We corrected this situation and, over thirty years later, are proud to offer the best of figurative art to the great art galleries across Canada.
A family business to this day, Multi Art is now under the guiding eye of Mrs.Natalie Beauchamp .
Rich of its reputation of excellence, the Multi Art team invites you to visit our web site. You will find through it the cream of Quebec visual artists.
---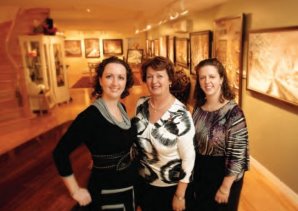 Fay, Bonnitta et Natalie Beauchamp